What I've been up to {July 2012}
We've been busy around here.  And the crafting has not stopped or slowed in the slightest.  It has been an easy way to beat the heat we've been having.  And it is something that doesn't make me hurt after doing it.  Although I will say its getting a little interesting trying to get near to the table to cut fabric and the iron is getting ever closer to my growing belly.   Here are a few of the many projects I have had going on.  There are more, but these are the ones that I can reveal now.  :)
I made these flower girl dresses for some friends of our for their wedding earlier this month.  Not going to lie, but it scared me when they asked if I would make them.  I have made dresses, but nothing as intricate as this.  And I had never used bridal satin, satin lining or netting!  It was an experience.  And I feel more confident about making fancy dresses now.  And I also learned how to use the blind hem stitch on my sewing machine...which seriously like the greatest thing!  Especially for someone who hates to hand stitch hems.  I used the
Simplicity 2467
 pattern and did some slight modifications to make it to the brides wishes.  I was very pleased with how they turned out.  Especially since they fit the girls quite well and looked great!

  Here are some of the latest baby items I made for a custom order.  I was so please how nice the blanket, paci clips and bib turned out.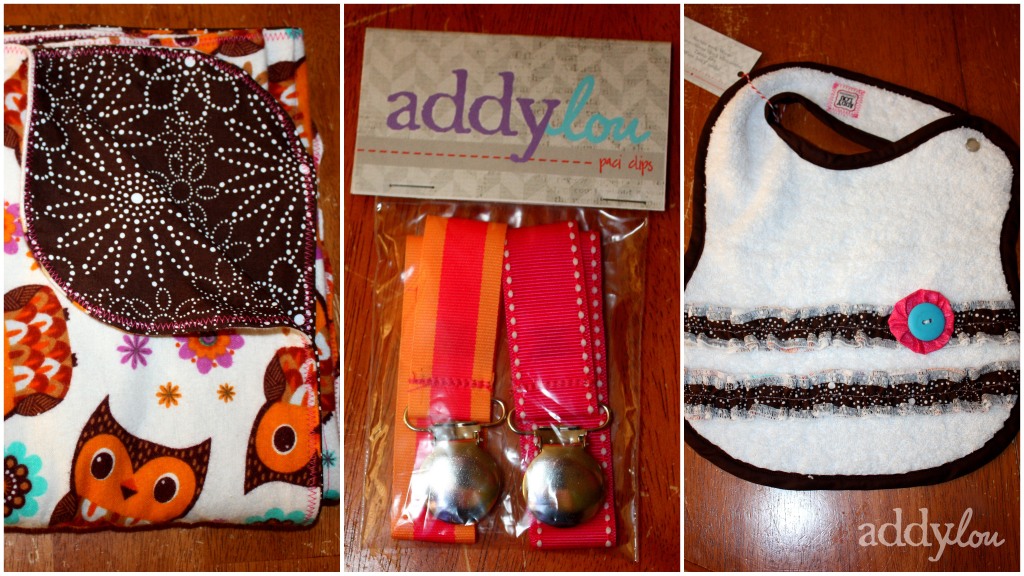 My latest project (not including the nursery items I have been working on) I made today.  I make lots of things, but not usually for myself.  I have been on a mission to find a new purse, but haven't really found anything that I really like.  Well I take that back...I did find a Coach purse that I fell in love with, but I couldn't bring myself to pay the dollar amount that was on the price tag.  It was a pretty one though.  Anyways, I thought that I would make one for myself.  I made this pattern awhile back per request of a friend of mine, and have been meaning to make one of my own.  Just haven't had much motivation until now.  I figured why not...its my birthday this coming weekend.  I deserve a pretty purse. (wink)  So this is what I came up with.  The gray chevron is extra material I had from making my bumper pad (I miss calculated and ordered way too much!) and the pink was just something I had laying around.  I followed a pattern I found here and made a few minor modifications to suit my needs.  (I used interfacing on the entire pattern to make it a little heavier and stiffer, made the straps about 5 inches longer, and I also made 2 sets of pockets for the inside.)  I love how it turned out!  Happy Birthday to me!!!!!



I have also been working diligently on getting more stock ready for the etsy shop.  And revamping my logo along with my website, and ordering new labels.  Its been a slow, fun process but more to come on that soon.


Thanks for reading!  More news on the growing twins also coming soon!